A Software for Hot and Warm Asphalt Quality Control & Mix Design
iPave is a turnkey cloud solution specifically designed to improve the quality control process of hot/warm asphalt, mix design and raw materials production.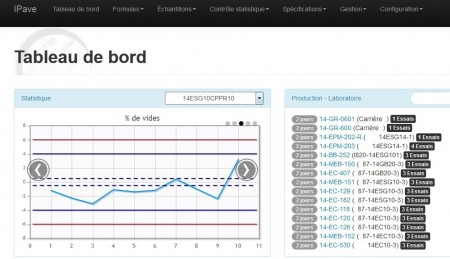 iPave is modular and without a binding contract. The monthly subscription model, more flexible and economical than those offered in the past, allows every user to decide exactly what he really needs, the service he should pay for and the time of use. This structure allows for an army of contributors to have access simultaneously to a powerful and modern tool at a low cost. The numerous teammates can share online information on their computer wherever they are at the office, at the batching plant or with their smartphone on a jobsite. Offering increased mobility, iPave helps work teams perform at a higher level.
iPave is now offered in one single module with an additional mix design calculator module under way:
Quality Control is the corner stone module. It allows the user to manage mix designs, report and manage all production relative to HMA and raw materials. You'll be able to manage:
Raw materials: samples, tests, certificates of information about your production's raw materials
HMWA production and consumption, with state of the art statistical control tools
Dashboard with the key performance indicators of your production
Mix designs
All the information is stored within a real, last generation database. You can access and modify your data from anywhere!
Quality Mix (comming soon) is a module specialized in mix design calculation. It helps you create your mix designs in an easy way using the information stored by the Quality Control module.
Don't wait any longer! Start enjoying the advantages of working with iPave. Get it!
Who should use iPave
iPave is a support tool easey to use and intuitive essential for all people involved in HMA production, supply and use. This includes engineers, lab technicians, and anyone else engaged in hot, warm and cold mix asphalt quality control, mix design and raw materials.
It's highly recommended for: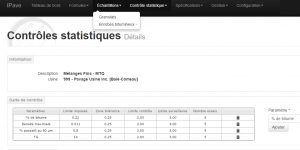 HMWA batching plants
Stabilization process
Quality Control laboratories
R&D laboratories
Raw materials suppliers: aggregates, asphalt cement, etc.
Share the data with your team
Share the information with your workgroup through our cloud servers. It's like having a shared database without configuring anything and without buying special equipment. You can work in synch with your co-workers no matter their geographical locate
Mobile access with Smartphones and Tablets: Perfect for the lab technician and QC people who need to share information. iPave gather sampling information on site and make it immediately available in the lab and office. The data is accessible in real time allowing close monitoring during production. The web access works with any device (iPhone, Android, Windows Phone, Blackberry, etc.).
Other advantages
Localized feature: we currently offer a localized feature for USA & Canada. This include special statistics, reports, etc., according to ACI, ASTM and CSA standards. iPave will be available for other countries soon!
Live Support: with subscription to this option, we offer a Live Support service via phone or Skype, within a 24 hours response time.
A focus on quality management
As specialists in Quality Management, we want to provide our clients with the best product for this expertise. Our application is not designed for accounting, production machinery operation and control, structural calculations, personnel management, equipment maintenance, invoicing, etc.