Free!

Free features

100% functional basic profile to enter, access and manage your data
 One-month free trial of the Expert Plan

Unlimited free updates

No obligations, no cancellation required
oo

Easy & Secure payment

OOPay with credit card with the security offered by PayPal.
OODirect payment – no PayPal account needed.
OOOther payment methods available.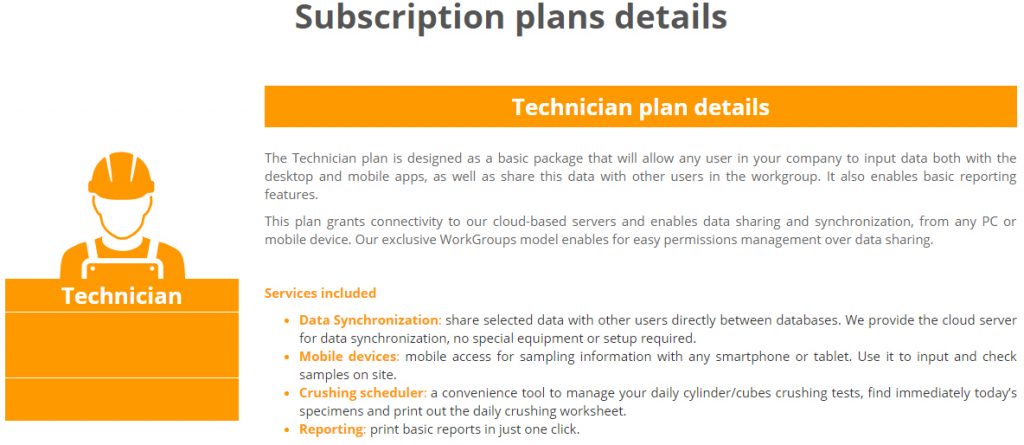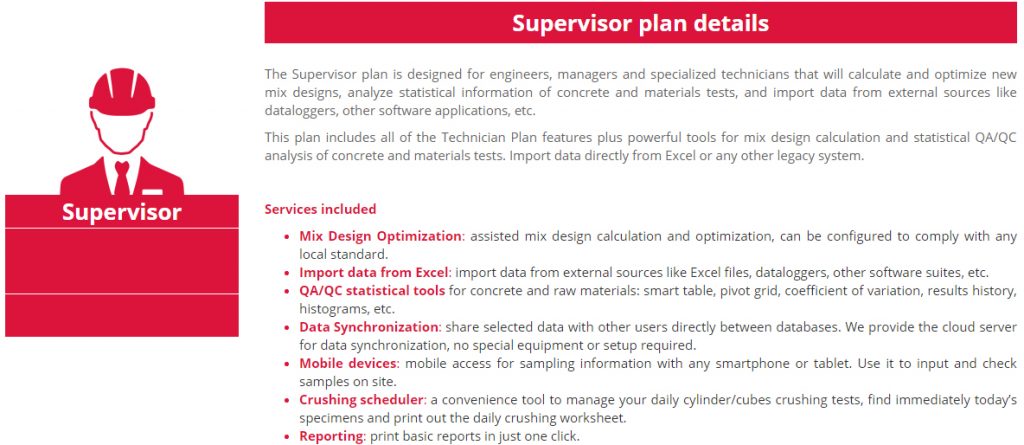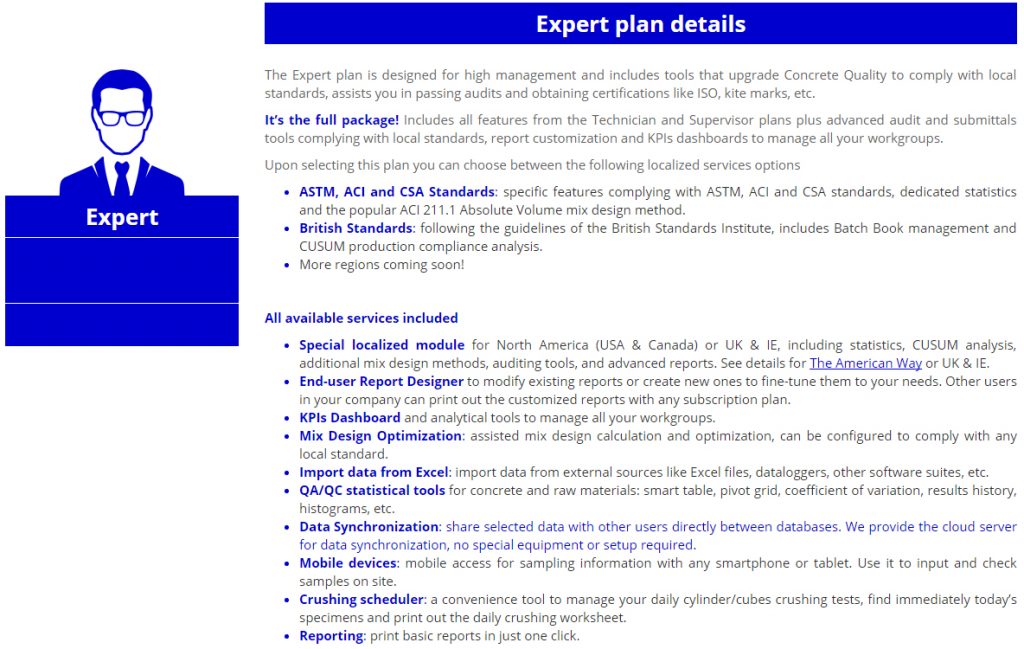 How to subscribe and pay as you go
You can manage your subscriptions and payments inside Concrete Quality software. To do so, follow these steps:
Download

the

software and register a new user for free (if you haven't already).
Go to My Account > Subscriptions to select which subscription plan you want, and choose whether to pay with recurring payments or upfront.
All transactions are processed securely with PayPal. All you need is a credit card or an active PayPal account. Subscriptions activation is immediate with this method.
You have two options when paying with PayPal:
Automatic renewal: with this option you'll pay for your first period to activate your subscription, and then you'll be billed just before your subscription expire. It's the best way to make sure that your subscription is always active without big upfront payments. You may cancel and resume your subscription at any time without penalties.
Upfront payment: choose any duration, from one month up to a year. Use this option to perform a one-time payment for all your subscriptions. You can switch to automatic renewal at any time. To benefit from the yearly subscription discount please refer to the section below.
Yearly subscriptions
Best deal!
You can benefit from a discount  when subscribing for a full year.
Follow these steps:
Download the software and register a new user for free (if you haven't already).
Contact us using your registered email address and tell us which subscriptions you want. We'll send you a pro forma invoice with the total amount, applicable discounts and wire transfer details.
Alternatively, you may contact us by phone or Skype.
Subscriptions are paid upfront by wire transfer. You can also pay for other users in your company at the same time. Make sure that you provide full details about the users and subscriptions that will be activated. Your subscriptions will be activated within 24 hours of receiving the transfer, just have your bank send us the transfer order receipt.
How subscriptions work
Subscriptions are linked to a user. You can manage any number of plants and use the software in many computers. You just need your username and password, your subscription will be available anywhere.
Subscriptions are a flat rate service. There's no limit to how many times you can use your subscriptions' features while they are active. For example, you may synchronize your data once a month or every hour, you'll pay exactly the same.
Subscriptions allow you to share information with other users. All subscription plans allow for information sharing with our exclusive "Workgroups" model. You may create, and be a member of, an unlimited number of Workgroups, and you can decide what information you share with other users. Other users in your Workgroups need to have their own subscriptions.
Most companies have several users, so every person using Concrete Quality will need his own registered user and subscription plan. Users may have different plans depending on what their job is. In cases where several people use the same computer at a single location (e.g., technicians in a lab, etc.) you may acquire one shared subscription plan for all of them.
Let us help you select the subscription plan that's more convenient for you. Contact us for further information.
Use Terms and Conditions
You can find the Use Terms and Conditions for the website, the application and the paid subscription services here.